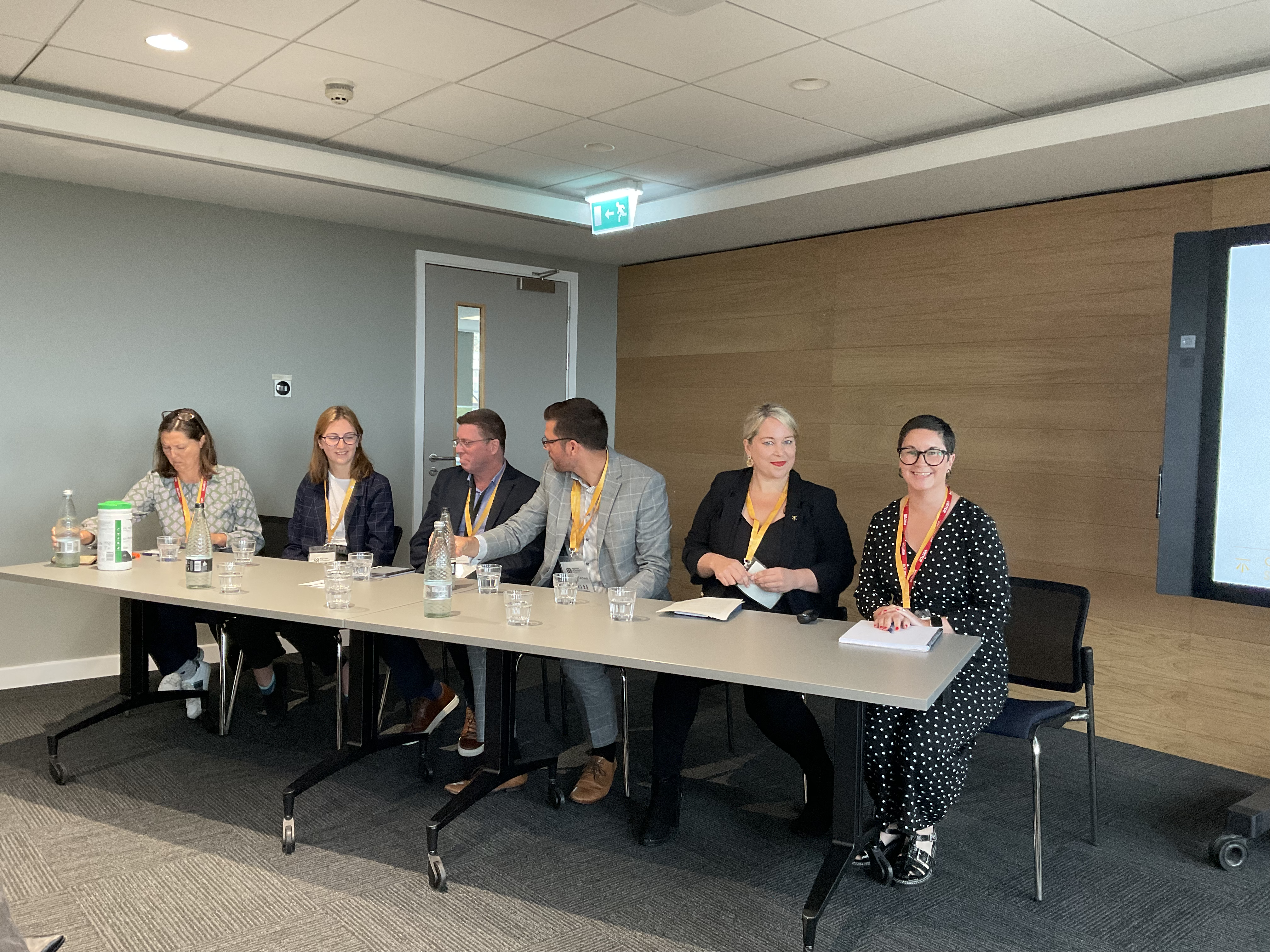 So, what do we really mean by Innovation in Geospatial?
September 2022
Collaboration in Key!
30 August 2022 saw Location Data Scotland and Geovation Scotland join forces to run an event at the Registers of Scotland's building in Edinburgh to explore the topic of innovation in geospatial with industry, public sector and academia.
A range of speakers and panellists from the Geospatial Commission, Registers of Scotland and industry joined Ashley Stewart, lead for Location Data Scotland and Lyndsey Dougan head of Geovation Scotland, to explore what we really mean by innovation in geospatial.
Innovation is Problem x Execution = Solution
Lyndsey explained that Geovation Scotland deliver a hugely successful accelerator programme targeting companies in Scotland working in the geospatial sector and they feel collaboration is the number one ingredient to make innovation happen. It's not just about having an idea or creating new technology – it's about creating value and having the support infrastructure in place to make it happen!
We also heard from Douglas McNeil from SME Eolas Insight who have an innovative solution tackling the impact on the environmental sector using location data. Doug said "In our experience, we can see there is lots of geospatial technology impacting the environmental sector and these technologies are making service development easier, enabling SMEs to punch above their weight. These technologies can help inform us to support our efforts towards biodiversity net gain and help us on our journey towards net zero."
Tourism business Electrek Explorer introduced their innovative app which supports the green traveller to find new experiences when they are out and about, providing information about e-bike and EV routes, charging points, nature sites, EV accommodation, bike friendly accommodation, electric bike charging cafes, local businesses and activity providers.Eilidh Smyth from Electrek Explorer said, "Innovation is nothing without the support of the wider ecosystem. We had fantastic support from Location Data Scotland and Geovation Scotland to help raise our profile, challenge our business model and make cross-sector collaborations which has really helped us scale and grow."
In terms of innovation, areas such as climate change and sustainability, transport, utilities and insurance are evolving, however sectors such as the emergency services are way behind! The key challenge in driving innovation is scalability. There are lots of great things happening across Scotland but questions remain around how we as a nation can help develop new skills and technologies and commercialise these, to drive more innovation. We also need to consider data democratisation – how do we get the right data to the right people in the right way at the right time? And what about data standards – are they interoperable, are they based on fair principles? Now is the time to create national standards that tie it all together.
Scotland has an amazing opportunity to drive innovation. We are a small nation with lots of opportunity to scale. Scotland is the perfect location for a test bed as we have scalable datasets and can lead by example. But we need to work together rather than working in silos!
As a starting point, we encourage you to join Location Data Scotland's community to help you find collaboration partners and stop trying to figure this out on your own!
Relevant Funding, Events and Reports referred to during the event:
Location Data Scotland : Innovation and Collaboration Webinar – 28th September 2022
SAVE THE DATE: Geovation Showcase 20th October
Geovation Scotland Accelerator Open Call
Applying Space Data to the Net Zero Economy
Agri Challenge – Can your organisation help to accurately measure biomass and natural capital using space data?
Geospatial Commission Annual Plan 2022/2023
Building public confidence in location data: The ABC of ethical use