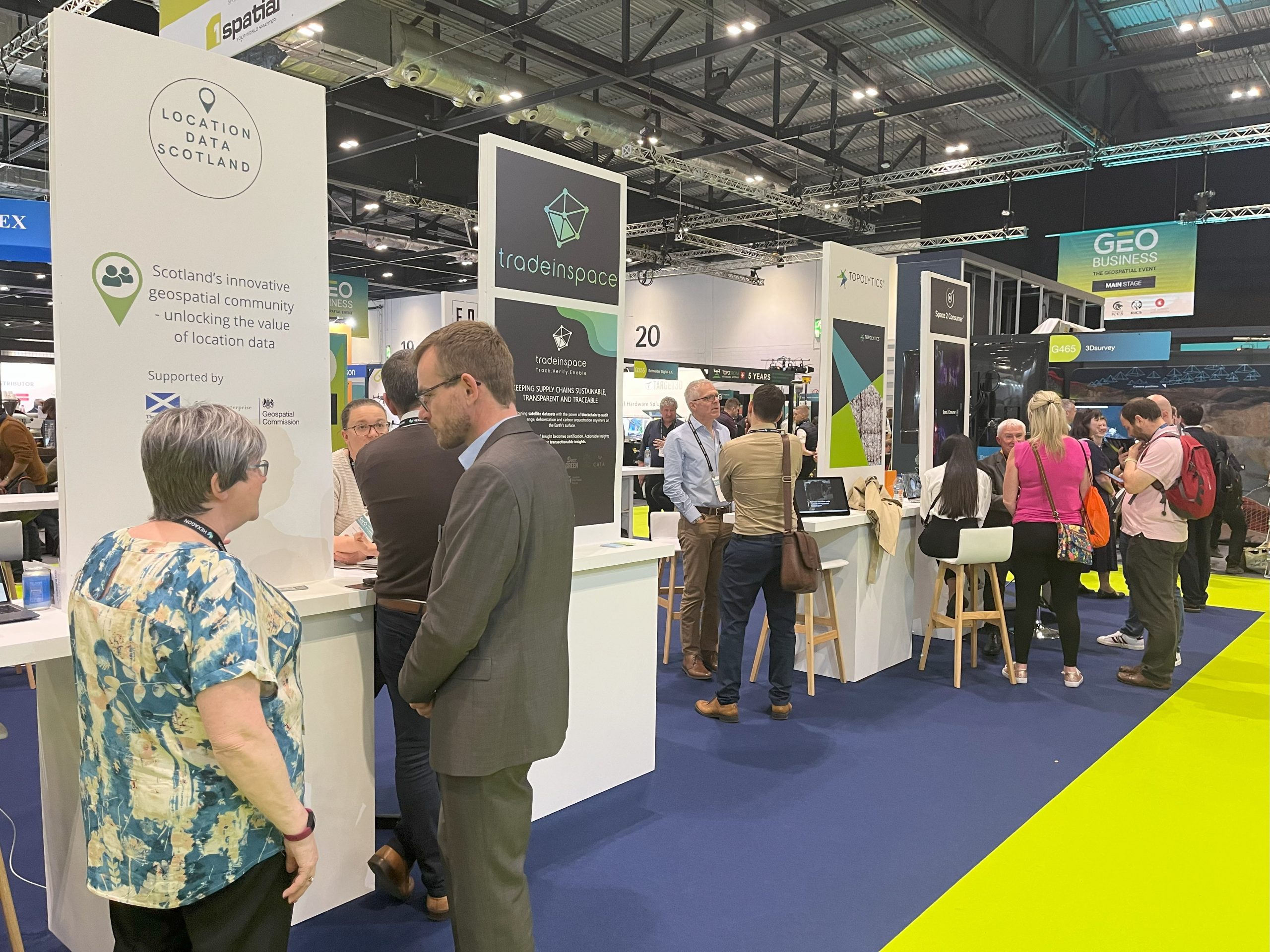 GeoBiz 2023 update
June 2023
From Innovations in Space to Environmental Impact, it was all going on at GeoBiz 2023!
Hosting the Scottish Innovation Village at Geo Business in London for two days we caught up with the 7 organisations who exhibited alongside Location Data Scotland to find out more about their technology and what their highlights were from being at the show.
Eolas Insight provide automated mapping solutions predominantly for the environmental sector. Their highlight of being at Geo Business was the ability to be part of the Scottish Innovation Village and talking to the other companies on the stand to discuss potential collaborative opportunities.
Space to Consumer capture real time satellite imagery of people, animals and life form. They met with some key brands at the show who were very interested in their technology including Tom Tom and Amey. Space to Consumer also formed a strong partnership with one of the companies on the Alley and were discussing a potential collaboration.
Trade in Space's technology uses satellite data analysis and blockchain technologies to make agricultural commodities traceable and sustainable. They attended the show to introduce their two highly innovative solutions; Digitrak and Sustainimaps.
NERC Field Spectroscopy Facility are a lending library for researchers sharing specialist equipment. They came to Geo Business to identify and build partnerships with key players to help improve their commercial activity.
Topolytics are a data analytics company providing solutions to make the waste supply chain more visible. Their CEO and founder Mike Groves highlighted how important it is for companies such as Topolytics to be part of the wider Scottish ecosystem and collaborate with other companies to share best practice and form partnerships.
Geovation are an accelerator programme supporting geospatial businesses in Scotland. Their partner manager Jess Sibley highlighted why it is essential for Geovation Scotland to be part of the Location Data Scotland community.
Craft Prospect is a NewSpace company providing AI-enabled space technologies, quantum encryption services and mission systems consultancy.
Alan Corbett, Head of Geospatial at the Scottish Government said,
Location data plays such an integral role in stimulating and promoting innovation within the Geospatial Sector. Location Data Scotland is working with some highly innovative organisations across Scotland and the UK, promoting the fantastic things currently being undertaken with location data. Having our own dedicated Scottish Innovation Village at Geo Business highlights the importance of the innovation and entrepreneurship being generated in Scotland, and the pivotal role Scotland plays in the wider UK Geospatial ecosystem.